The role of the NWCSP Supply and Distribution workstream is to:
Develop a wound care product classification system that could be adopted by others to improve clinical practice;

Contribute clinical expertise to NHS partners' development of wound care product specifications;

Develop a set of principles of good practice for systems of supply and distribution of wound care products;

Review unwarranted variation in product usage at national, regional and local level and to develop recommendations to reduce such variation; and

Identify examples of good practice for widespread implementation.
We recognise that success will depend on recognising and addressing interdependencies between different stakeholders and services involved in wound care. The National Wound Care Strategy Programme is contributing to the ongoing work of NHS England and Improvement, the Department of Health and Social Care, NHS Supply Chain, NHS Business Services Authority, and others around the supply of wound care products.
The NWCSP is not responsible for:
Tendering or procurement processes for wound care products;
Work to review NHS procurement approaches; or
Primary care prescribing system policies
Queries about these issues should be addressed to the relevant organisation as shown in the diagram:
Department of Health & Social Care: 
NHS Supply Chain general queries:
Procurement specific queries: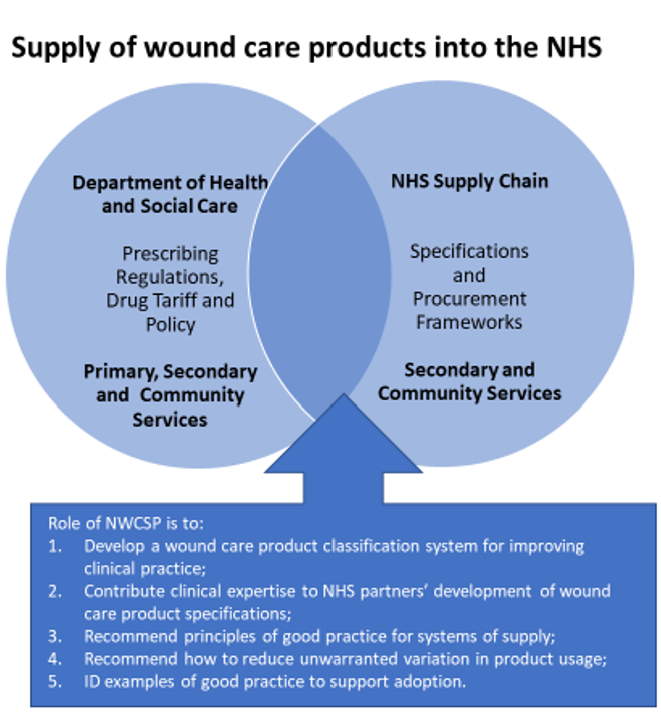 Review of Routes of Supply & Distribution of Wound Management Products in England – Download
NWCSP Supply and Distribution webinar (16.11.22) – Watch
This webinar provided an update on the development of a wound product classification system and a review of the routes of supply and distribution of wound management products in England.
Get involved
Sign up to our stakeholder forum to receive consultation surveys, newsletters and more.